Air cleaning technologies
Livestock housing and management systems
Technologies for reduction of gaseous emissions from land applied manure
Covers and other technologies for reduction of gaseous emissions from stored manure
Slurry separation technologies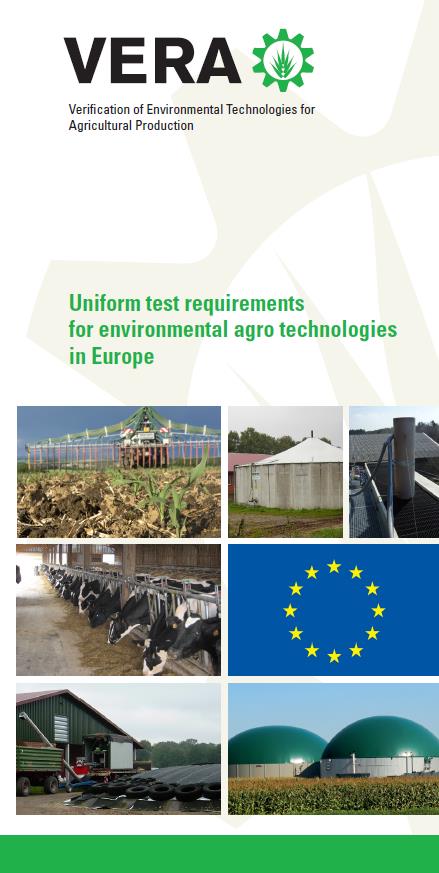 The management of VERA
VERA was established in 2008 in collaboration between the Dutch, German and Danish environmental and agricultural authorities. Activities are currently ongoing to involve additional countries in the VERA framework.
The IVB – International VERA Board – consists of representatives from the national agricultural and environmental authorities of the participating countries: The Dutch Ministry of Infrastructure and Water Management (Ministerie van Infrastructuur en Waterstaat), The German Federal Ministry of Food and Agriculture (Bundesministerium für Ernährung und Landwirtschaft) and the Danish Environmental Protection Agency (Miljøstyrelsen).
The IVB is the decision making authority that establishes the rules, criteria, and scope of the VERA activities.
The International VERA Secretariat
The international VERA Secretariat organizes, coordinates and implements the activities that IVB chooses to launch. The secretariat is responsible for launching, facilitating and monitoring the activities of the IVC. In addition, the secretariat handles the international communication, dissemination, marketing and runs the VERA website.
Furthermore it advices the environmental technology manufacturers, test institutes and authorities and assesses applications for a VERA Verification Statement. Last, but not least the secretariat issues the VERA Verification Statements and ensures that they are used as intended.
Until 2018 the international VERA Secretariat was located in Germany on behalf of the German Federal Ministry of Food and Agriculture. From October 2018 nwards the international VERA Secretariat is located in the Netherlands on behalf of the Dutch Ministry of Infrastructure and Water Management.
Technical experts
A number of independent technical experts have been appointed in all three countries within each of the technology subject areas that VERA works with.
Internationally, the experts are organized in the International Verification Committee (IVC). The IVC experts are in charge of revising existing protocols and developing entirely new ones. Furthermore, they play a central role in ensuring the uniformity and reliability of the test and verification activities that are carried out within the VERA framework.
Nationally, the experts are organized in a National Technical Advisory Committee (NTAC). The role of the NTAC is to advise test organizations on planned and ongoing activities, evaluate test reports and verification applications and prepare recommendations to the IVB and IVC. In Denmark the NTAC is named MELT.
Test institutes
The test institutes have the main responsibility for planning, conducting and reporting test activities according to the VERA test protocols. The test institutes are independent organizations. They are not directly a part of the VERA organization and can be chosen freely by the applicant. However, the test institutes need to fulfill the requirements and demonstrate the necessary experience and knowledge regarding the areas in which they conduct tests.